Since 1985, Mortech Manufacturing has provided high-quality American-made laboratory equipment and products to the postmortem industry.
Mortech Manufacturing has been providing quality postmortem equipment and instruments to a wide range of facilities since 1985, serving the pathology, autopsy, necropsy, veterinary, morgue and mortuary industries. Mortech is a built-to-order stainless steel manufacturer with a hard-earned reputation as the market leader in our sector. We are committed to furnishing and fabricating quality products at affordable prices.
Mortech is a comprehensive one-stop shop, providing an array of supplies and equipment; from the smallest of micro-tools to a complete renovation of your facility. Through top-notch manufacturing and state-of-the-art equipment, Mortech will provide any facility with the professional quality service you need and expect.
Mortech Manufacturing is an ISO 9001:2015 certified company with NSF certification. We adhere to all Leed Green, UL, and CE standards. And, as always, we are proud to be a part of the MADE IN THE USA tradition.
Mortech is committed to being recognized as the preferred provider of premium quality postmortem products and equipment. This goal is realized through teamwork, open communication, continual refinement of our production systems, and an uncompromising devotion to meeting customer needs. Mortech sets the standard in superior customer service. This philosophy has allowed our company to grow and expand worldwide.
Our expert staff delivers the total package, providing the expertise and knowledge necessary to make the best decisions for your facility. Our attention to detail and comprehensive quality assurance protocols allow us to consistently outperform the competition. We strive for customer satisfaction throughout the procurement process. From your first contact with Mortech's sales representatives, through the engineering and fabrication process, all the way to your final installation and troubleshooting, our services are second to none.
Mortech Manufacturing looks forward to building a successful partnership with you in your next equipment project!
Benny Joseph learned the value of hard work early on in life, spending his formative years on the family farm in Liverpool, Ohio. At the age of 16, he enlisted in the United States Marine Corps. The integrity and values he acquired from these humble origins carried over to the creation of Mortech in 1985. As a complete newcomer to the market, Mortech quickly distinguished itself from its competitors.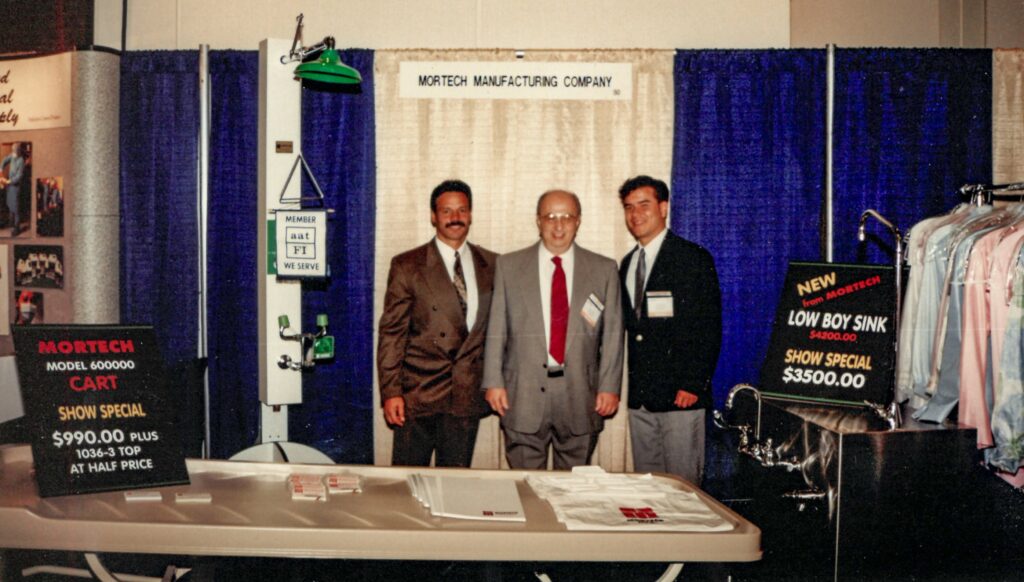 Mortech started in Arcadia, CA in a 1000 sq. ft. building providing service to funeral homes. We required a space upgrade and moved to a 4500 sq. ft. facility in 1988 as the business began to expand.
In 1996, Mortech moved to an 11,000 sq. ft. facility and expanded our offerings to provide equipment for medical examiners, coroners, and university research facilities. At this point, we also added in-house fabrication capacity. In 2005 Mortech became an ISO9000 certified company.
To this day, we maintain this certification and hold ourselves to the stringent requirements of the program. In 2006, Mortech moved to Azusa and acquired a 22,000 sq. ft. building, expanding our services to provide for hospitals and the manufacture of necropsy equipment. Mortech expanded an additional 22,000 sq. ft. in 2009 to consolidate the manufacturing of all our stainless steel equipment.
We purchased an additional 31,000 sq. ft. building in 2017 devoted to the manufacture of our mortuary refrigerators and walk-ins.
Today, Mortech continues to grow. The tradition of our founders integrity and values has been instilled into his five children who all share equal ownership. Our ability to innovate and customize products based on customer needs continues to make us unique to the industry as we strive to maintain our hard-earned reputation as the market leader in our sector.
Sheet Metal Manufacturing
(1) AMADA FANUC AF2000E LU2.6 LASMAC LC 2415 XIV NT
(1) ORION-DIGI ECO CHILLER RKED7500 A-VA-UU
(1) DOWNFLO ADF4
(1) AMADA QSQ 180W-11CA1
(1) BOSCHART EAGLE PN 4 SQUARE NOTCHER 1/4″ MILD STEEL
HOLE PUNCHER
(1) SCOTCHMAN M3 6509-24M
(1) WELLSASW3 3-16 BAND SAW 1 x .035 BLADE
(1) HORIZONTAL BAND SAW 1″x.032″x119-1/2″
(1) 10″ CRAFTSMAN RADIAL ARM SAW
(1) SAFETY SPEED CUT PANEL SAW
(1) DORINGER D350 14″ BLADE
(1) CINCINNATI BASEFORM 175BX10 175 TON 10FT.
(1) CINCINNATI 230CB x 10 FT. PRESS BREAK
(1) CINCINNATI 90CBII 90 TON 6FT.
(1) MILLER DYNASTY 200 TIG WELDER, WATER COOLED
(1) MILLER MAXSTAR 200 TIG WELDER, WATER COOLED
(2) MILLER SINCROWAVE 350LX TIG WELDER
(1) MILLER MATIC 252 MIG WELDER, SELF- FEEDING
(2) MILLER SINCROWAVE 250
METAL GRAINER/FINISHING
(1) TIMESAVER MODEL #2211-230-0
(1) MORI SEIKI – DURA TURN 2050
(1) MORI SEIKI – 2550
(2) VMC – 40
(1) VMC – 2216
(1) VMC – 6030
Refrigerator Panel Manufacturing
(1) CINCINNATI, MODEL #50014
METAL PRESS
(1) ACCURPRESS, 14' TABLE, MODEL #725014
(1) BAILEIGH, MODEL #STS – 14120
2100C FOAM DISPENSING UNIT
(1) 20', 7 SHELF, PANEL PRESS
(2) HOT MELT TECHNOLOGIES, MODEL #BENCHMARK
BM315-4
(8) JITOOL JQS65, 2-1/2" STAPLE GUN
(8) JITOOL JLS38, 1" – ó" STAPLE GUN
(4) 10" SLIDING COMPOUND MITER SAW WITH LASER
QUIDE SYSTEM, MODEL #61971